Frequently Asked Questions
Do I Need to Book?
People wishing to stay for one week or more can Reserve a Pitch, a £30 deposit is required for this reservation, which must be received within 7 days of booking. No booking is confirmed until deposits have been received and all deposits are non refundable. The balance of payment has to be made on arrival, this is whether you decide to stay or not (I am not responsible for any bad weather)
Alternatively, you are very welcome to Turn Up Without Booking and just pay for the camping you require, if there is no available pitch we have an additional large field available that has plenty of space, but no dedicated pitches. The only disadvantage of this field is that it is further to walk to the facilities.
Important! We ask all visitors to make their arrivals after 2.00pm, this is to allow time for pitches to become available as people leave. When leaving please vacate your pitch by lunchtime.
Campers arriving after 10.00pm can go into the late arrivals field.
Please remember to call at the house before pitching or parking, thank you.

Touring Caravans: It is essential for touring caravans to be booked in due to Pembrokeshire Coast National Park Authority restrictions. If you wish to bring a touring caravan you can book for less than one week.
Are There Electric Hook-ups?
The site does not have electric hook-ups, but we are happy to re-charge any type of battery from car to phone. There is a charge of £0.50 per item for this service.
Can I Bring My Dog?
Yes we do allow dogs providing that they stay with you at ALL times and that you clean up after them.
Are Camp Fires Allowed?
We do not allow ground camp fires. But if you would like to have a barbeque please ask at the farm for a paving slab to protect the grass.
Can I Pay by Credit or Debit Card?

Yes we accept payment by credit/ debit card, cheque or cash.
See Camping Prices.
When is the Campsite Open?
The campsite is open from mid-March to the end of September.
Where is the Nearest Wi-Fi?
Wi-Fi connections are available at the Lobster Pot Inn, Marloes and The Griffin Inn, Dale.
Can I Fly My Kite?
Unfortunately there are overhead power cables close by
and kite flying is not permitted.
Local Bus Service?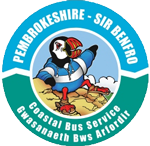 The Puffin Shuttle 400 service runs a coastal route connecting Marloes to St Davids, calling at a number of coastal locations on the way. Currently it runs every day during the summer and Thursday and Saturday in winter.
This service provides a very useful service for walkers allowing them to take the bus along the coast and walk back along the coastal footpath.
The Barn
A dry and sheltered place that contains a number of tables and chairs and is available to use on wet and and windy days.
The barn also contains a number of fridges and freezers for all campers to use. Perfect for keeping your food fresh and your ice packs frozen. There is also an additional washing up sink with hot water and a micro wave oven.
Look out for the swallows nesting in the roof timbers of the barn. They can sometimes be seen flitting in and out of the door during the summer months.