The Small Campsite with Great Sea Views
The campsite is spread out over 3 fields that all overlook St Brides Bay, so it has beautiful sea views.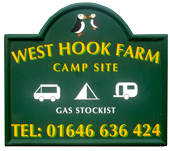 West Hook Farm Campsite is run by Robert and Karre Thomas.
The campsite has clean basic facilities, which include 8 communal toilets and wash hand basins, 3 showers that work on 50p coins (the shower lasts approximately 4 minutes), 4 washing up sinks and a chemical disposal point. There are several freezers available that can be used for ice packs only, there is no charge for the use of the freezers.
There is also a £1 meter that can be used to blow up air beds, blow drying hair etc. The £1 lasts for 7 minutes.
The site DOES NOT have electric hookups, but we can charge all sorts of batteries from phone to car. The cost of this is £1 per charge.
There is a barn that campers can use when we have wet and windy weather.
Robert and Karre are big on recycling and provide separate bins for newspapers and magazines, tins and cans, glass bottles and jars. There is also a compost heap for organic waste and peelings.
Pitches & Booking
Pitches can be reserved for people wishing to stay a week or more with a deposit of £35, with the balance of the booking to be paid on arrival. This deposit is non refundable and non transferable.
If you want to book for less than one week, full payment must be made on booking. Minimum booking of 2 nights, unless you are back packing, then we will accept a one night booking.
Touring caravan bookings are a minimum of 4 nights.
All bookings and payment must be made by credit/ debit card and by phone ( We do not do online bookings). Please give us a call: 01646 636424
Please Note
We ask visitors to make their arrival after 2.00pm but before 8.00pm. Pitches must be vacated by 12.00pm. The gates to the site are locked at 10.00pm and re-opened at 7.00am.
Our opening hours are: 8.00am to 8.00pm (closed between 12.00pm and 2.00pm)
We do not allow ground camp fires, but we do allow raised fire baskets and BBQs and we supply slabs to put them on, to protect the grass.
We hire out picnic benches and fire baskets.
We sell Calor Gas and Camping Gaz, logs, fire lighters and disposable BBQs.
We do not allow the flying of kites or drones because of overhead power lines.
We do not accept anyone going fishing.
We reserve the right to refuse admission
---
Please read our Frequently Asked Questions. If there is anything that hasn't been covered in this information that you need to know please contact us on 01646 636424.
Thank you,
Robert and Karre Thomas
Camping Prices
Please see our Prices for 2021. Details of our charges, including items for hire and facilities that are free of charge.
Read More
Local Beaches
Marloes Sands - this magnificent National Trust managed beach is famed for its crystal-clear water and dramatic sandstone cliffs ...
Read More
Shop, Pubs, Cafes
The Marloes Village Store offer a wide range of groceries, a cafe & a post office ...
Read More
Nearby Activities
The picturesque, safe bay at Dale provides the perfect conditions for water sports ...
Read More
Listed in Campsites.co.uk
Searching For The Perfect Beach
"Pembrokeshire has the world's best beaches" - says Kevin Rushby, who set out with his daughter and a vintage VW campervan to find the ultimate stretch of shore.
"Now we were approaching our destination: West Hook Farm on the Marloes peninsula. This proved to be the best campsite we visited: basic but clean facilities, loads of space, and a glorious clifftop panorama. We jumped into wetsuits and ran 500m along the cliff path to reach Martin's Haven. This is a tiny stony cove best suited to snorkelling and rock-pool exploration. We swam out along the east side and were rewarded by a view of a big edible crab scuttling between the kelp. He evaded our hungry fingers".