Things To Do Near West Hook Farm
West Wales Watersports Centre, Dale
Only 1.5 miles away, the picturesque, safe bay at Dale provides the perfect conditions for water sports with its calm, sheltered shores ideal for those learning and relaxing, as well as plenty of wide open space for those looking for a little more wind and excitement.
Whether you fancy sailing, powerboating, windsurfing, kayaking or paddle-boarding, West Wales Watersports can offer you tuition, hire and all the equipment you need to get you out on the water.
Web: West Wales Watersports
Tel: 01646 636642
---
Nolton Stables - Beach Riding
Nolton Stables have a large selection of horses and ponies and take pride in their ability to provide suitable mounts for needs as diverse as a young child, who is experiencing horse riding for the first time, through to those who have owned their own horse - and of course all those in between!
Whatever the destination of each ride, we all hack gently across the fields and paths of the off-road route together – enabling groups of families and friends to spent at least part of the ride together.
En-route the staff are spread throughout the ride. This makes it possible for us to teach, assist and offer tips and reminders - to those who have may be ridden before - enabling you to have a confident and enjoyable experience.
When we reach either the beach or woodland we split up into smaller groups of abilities i.e. walkers, trotters, 'rusty' and 'happy' canterers and so on. We try our hardest to make sure every body gets to ride to their perceived ability.
Web: Nolton Stables
Main Stables: 01437 710360
---
Skomer and Skokholm Safari
Approximately a ten minute walk from the campsite, Martins Haven is the depature point for an exhilarating high speed Sea Safari to the islands of Skomer and Skokholm, journeying through the infamous white water of 'Jack Sound'. Explore the cliffs and coves of two of Britain's most famous island wildlife havens. Both Skomer and Skokholm Islands are home to vast colonies of nesting seabirds – including the largest Puffin colony in Southern Britain. Seals and Porpoise are also regular sightings on this truly unforgettable trip!
Web: Pembrokeshire Islands Boat Trips
Tel: 01646 603123
---
Gianni's Ice Cream, St Davids
Gianni's is an award-winning Italian Artisian Ice Cream Parlour, in the heart of the cathedral city of St.Davids. Their ice cream is made daily by using fresh organic milk from local Caerfai Farm St Davids.
Giannis also makes an extensive range of delicious fruit sorbets which are dairy free and chosen according to seasonal fruit availibility. There is always a sugar free and dairy free ice cream suitable for diabetics.
Tripadvisor - "The selection of ice creams is huge. They also provide lovely fresh sorbets and usually have one or two non dairy ice creams on offer too. As a vegan, I rarely get to enjoy ice cream when I am out and about, but this place means I can. If you come to St Davids, you must try one of these ice creams. In the summer, the queues are long - but there is a very good reason for that!!"
Web: Gianni's Ice Cream
Tel: 01437 720 403
---
Oriel y Parc, St Davids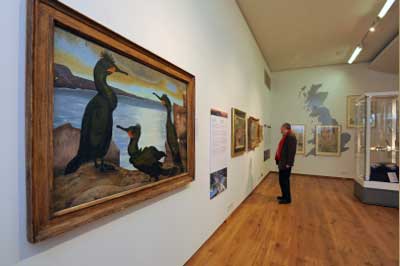 Oriel y Parc Gallery and Visitor Centre is the gateway to St David's, Britain's smallest city, located in the UK's only truly coastal National Park. You're in a unique award-winning 'green' building with a great café.
Using objects from the art, natural history and industry collections of Amgueddfa Cymru – National Museum Wales, visitors can view a regularly changing exhibition programme, including a selection of works by Graham Sutherland. This twentieth century painter was so moved by Pembrokeshire that he bequeathed a body of artwork to the county.
Web: Oriel y Parc Gallery and Visitor Centre
Tel: 01437 720 392