Frequently Asked Questions
Do I Need to Book?
Booking is required. Pitches can be reserved for people wishing to stay a week or more with a deposit of £35, with the balance of the booking to be paid on arrival. This deposit is non refundable and non transferable.
If you want to book for less than one week, full payment must be made on booking. Minimum booking of 2 nights, unless you are back packing, then we will accept a one night booking.
Touring caravan bookings are a minimum of 4 nights.
All bookings and payment must be made by credit/ debit card and by phone. Please give us a call: 01646 636424
What Time Can I Arrive?
We ask visitors to make their arrival after 2.00pm but before 8.00pm and to vacate by 12pm. The gates to the site are locked at 10pm and re-opened at 7am.
Please remember to call at the house before pitching or parking, thank you.
When is the Campsite Open?
The campsite is open from mid-March to the end of September.
Can I Pay by Credit or Debit Card?

Yes we accept payment by credit/ debit card, cheque or cash.
See Camping Prices.
Do You Have Freezers For Ice Packs?
Yes there are freezers (ice packs only) available for all campers to use in the barn.
Are There Electric Hook-ups?
The site does not have electric hook-ups, but we are happy to re-charge any type of battery from car to phone.
There is a charge of £1.00 per item for this charging service.
There is also a 13 amp electric point in the barn for hair dryer, hair straightener, kettle etc - £1 for 7 minutes.
Can I Bring My Dog?

Yes we do allow dogs providing that they stay with you at ALL times and that you clean up after them.
Are Camp Fires Allowed?
We do not allow ground camp fires, but we do allow raised fire baskets and BBQs and we supply slabs to put them on, if you would like to have a barbeque please ask at the farm for a paving slab to protect the grass. We hire out fire baskets and also sell disposable BBQs.
Can I Hire a Picnic Table?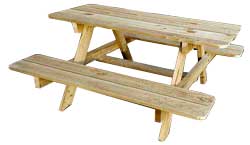 We have a number of picnic tables for you to use on your pitch.
There is a minimum charge of £5 up to 5 days and a maximum charge of £10 for 6 days or more.
Can I Fly My Kite or My Drone?

Unfortunately there are overhead power cables close by, so kite and drone flying is not permitted.
Is There a Local Bus Service?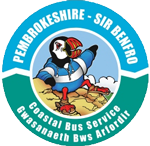 The Puffin Shuttle 400 service runs a coastal route connecting Marloes to St Davids, calling at a number of coastal locations on the way. Currently it runs every day during the summer and Thursday and Saturday in winter.
This service provides a very useful service for walkers allowing them to take the bus along the coast and walk back along the coastal footpath.
What If It's Raining?
The barn is a dry and sheltered place that campers can use when we have wet or windy weather.
The barn also contains freezers (ice packs only) for all campers to use. There is also an additional washing up sink with hot water and a 13 amp electric point in the barn for hair dryer, hair straightener, kettle etc
Look out for the swallows nesting in the roof timbers of the barn. They can sometimes be seen flitting in and out of the door during the summer months.