The Small Campsite with Great Sea Views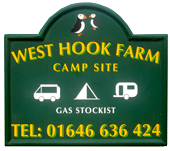 West Hook Farm Campsite is a friendly farm and campsite on the Marloes Peninsula, within the Pembrokeshire Coast National Park and with glorious views of St Brides Bay.
Run by Robert and Karre Thomas, the farm is a relaxed and rural place with spectacular panoramic sea views and pretty sunsets. There's little low light pollution, so the stargazing at night is excellent.
West Hook's campsite is spread out over three fields, all pitches are on grass without electric, suiting tents and campervans.
Some pitches are on a gentle north facing slope.
Searching For The Perfect Beach
"Pembrokeshire has the world's best beaches" - says Kevin Rushby, who set out with his daughter and a vintage VW campervan to find the ultimate stretch of shore.
"Now we were approaching our destination: West Hook Farm on the Marloes peninsula. This proved to be the best campsite we visited: basic but clean facilities, loads of space, and a glorious clifftop panorama. We jumped into wetsuits and ran 500m along the cliff path to reach Martin's Haven. This is a tiny stony cove best suited to snorkelling and rock-pool exploration. We swam out along the east side and were rewarded by a view of a big edible crab scuttling between the kelp. He evaded our hungry fingers".
Camping Prices
Please see our Camping Prices for 2023. Information on how to make your booking, plus details of all our charges, including items for hire and facilities that are free of charge.
Read More
Local Beaches
Marloes Sands - this magnificent National Trust managed beach is famed for its crystal-clear water and dramatic sandstone cliffs ...
Read More
Shop, Pubs, Cafes
The Marloes Village Store offer a wide range of groceries. Camille's Pizza & Pasta produce delicious stone baked, take away pizza and pasta dishes. The Lobster Pot offers a large bar, restaurant, and a roaring log fire for those chilly nights ...
Read More
Nearby Activities
The picturesque, safe bay at Dale provides the perfect conditions for water sports ...
Read More

Listed in Campsites.co.uk