Skomer Island
From the Deer Park on the headland at Wooltack Point, just above the campsite, you can look westward to Skomer Island, one of West Wales' most picturesque islands, with its stunning and varied wildlife.
From a sea strewn with rafts of guillemots, razorbills and puffins, to exposed headlands, towering offshore rocks and sheltered inlets, home to the birds and mammals of this amazing island Nature Reserve.
Just 10 minutes walk along the coast path from the campsite is Martins Haven, from here a 50-seater passenger boat, the Dale Queen, offers gentle cruises through the surrounding waters and bays of Skomer and also transports visitors to the Island.
Wildlife on Skomer Island
Skomer Cruises on the Dale Queen
Enjoy an hour's experience with the commentary of an expert naturalist as you take in some unique views from the water of Skomer's seabirds soaring around the cliff. Watch out for seals basking on the rocks, and porpoise feeding as we cruise around this Marine Nature Reserve.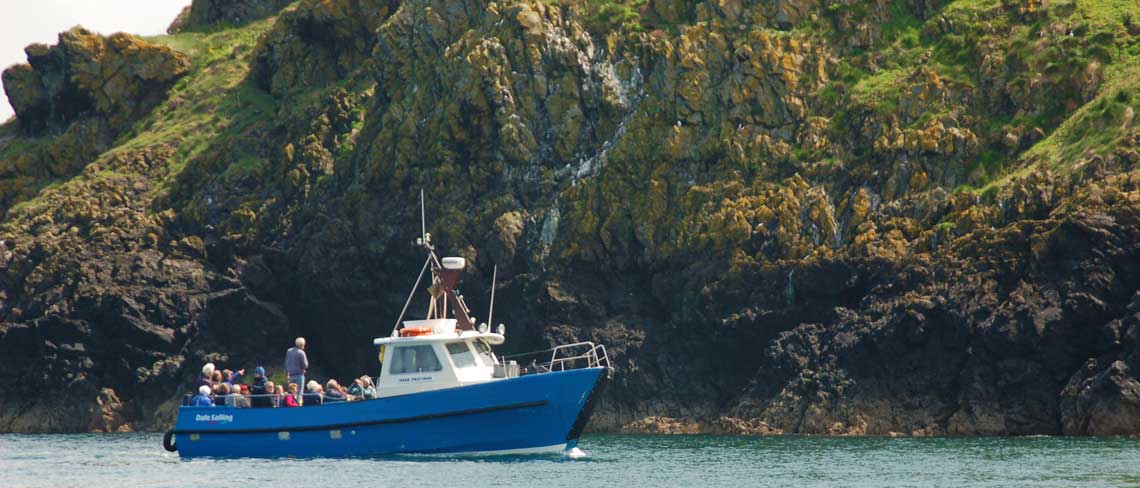 Skomer Cruises departing from Martins Haven Tuesday - Sunday at 12.30pm and 1.30pm. On Mondays trips are at 10.30am & 11.45am (except bank holidays)
Adults: £20.00 (including commentary)
Children : £18.00 (including commentary)
You can book online.
---
Daily Skomer Island Landings
A 20 minute boat ride takes you to enjoy one of the best wildlife experiences in Britain. Land on Skomer and spend the day exploring the beautiful island nature reserve and see the thousands of Puffins, Guillemots, and Razorbills, along with a host of other birds and wildlife. The island has 87 steep steps to climb from where the boat lands, a certain level of fitness is required to access the island.
Sailings are weather dependent with the final decision resting with the Boatman; decisions on sailing are made each day by 9.00am and are dependent on both conditions and forecast. A strong northerly wind will prevent departure from Martin's Haven and access to Skomer landing.
Skomer Island Landings departing from Martins Haven daily at 10am, 10.30am, 11am, 11.30am, 12pm – returning from 3pm (1st April - 30th September).
No Landings on Monday (except Whitsun Week Holiday)
Adults - £40.00
Children 2 to 11 years old - £30.00
Infants - Free

Important: Please see the essential Skomer Island landing information that will help prepare you for your trip to Skomer Island.
---
Skomer and Skokholm Safari
Martins Haven is also the depature point for an exhilarating high speed Sea Safari to the islands of Skomer and Skokholm, journeying through the infamous white water of 'Jack Sound'. Explore the cliffs and coves of two of Britain's most famous island wildlife havens. Both Skomer and Skokholm Islands are home to vast colonies of nesting seabirds – including the largest puffin colony in Southern Britain. Seals and porpoise are also regular sightings on this truly unforgettable trip!
Web: Pembrokeshire Islands Boat Trips
Tel: 01646 603123