Walks Near West Hook Farm
Marloes Peninsula - Coastal Walk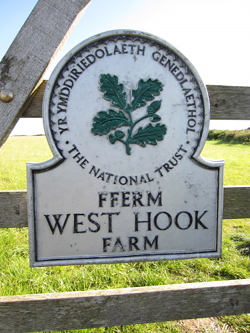 West Hook Farm campsite is situated on the Marloes Peninsula, which is within part of the Pembrokeshire Coast National Park, and forms the westernmost tip of the southern shore of St Brides Bay.
If you have a couple of hours to spare and want to explore this beautiful peninsula then try this moderate 5 mile circular walk that starts at the campsite and follows the coast path and also explores some of the inland trails across Marloes Mere. You can download a PDF of the route details and map.
Check the excellent National Trust page on things to see and do on the Marloes Peninsula. Have a look too at Short walks in West Wales - a National trust guide to short walks in West Wales that are only up to three miles long but are packed with things to see and do.
Martin's Haven - the Deer Park
Just 10 minutes walk from the campsite, the Deer Park was originally part of the Kensington estate of St Brides, but has never actually contained any deer. So no deer to see, but lots of seals (pups in autumn), heather and wildflowers, spectacular rocks and sea views. So enjoy the dramatic coastal scenery and chances to spot wildlife and you'll also see most of Pembrokeshire's islands from here too.
Discover Marloes Deer Park
Birdwatching at Marloes Mere
Marloes Mere is a great place for birdwatching. It's an especially good place to see waterfowl and birds of prey in the winter months. Walk down the lane from the Marloes Sands car park and stop often to look across the wetland. There are two hides overlooking the mere, where you can sit quietly and wait for things to happen.
Marloes Mere