Beaches Near West Hook Farm
Marloes Sands
Marloes Sands - just a half-mile walk from the nearby car park to this magnificent National Trust managed beach, but it's worth it for the crystal-clear water and dramatic sandstone cliffs, the views of outlying islands, the fossils, rock pools, surf and space. There is good safe bathing when the weather is calm.
Marloes Sands
Marloes Sands has been used as a set location in several films, most recently "Snow White and the Huntsman". Have a look at this location clip to see some of the filming taking place on the beach.
Musselwick
Musselwick is just outside the village of Marloes. There is limited roadside parking just opposite the public footpath that leads down to the coast path and the beach.
The beach is completely submerged at high tide but a fine beach of golden sand is exposed at low tide. Access is by footpath across a field and then a fairly tricky path cut into the rocks of the low black gulley that leads on to the beach.
The best time to visit is an hour or two before low tide, which gives you plenty of time to explore. Well worth the effort to see and enjoy this wonderful beach.
St Brides Haven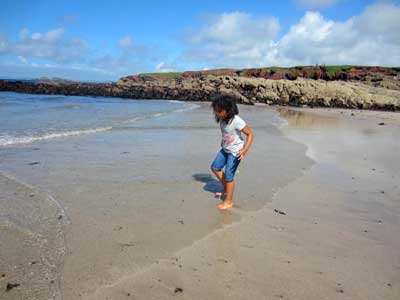 A pretty cove with bright red cliffs. It has interesting rock pools, safe bathing and good snorkelling, popular too with canoeists exploring the inlets and caves along the coast.
Plenty of rock pools will keep budding explorers happy for hours. Look out for the stone lined coffins exposed by coastal erosion in the cliffs by the lime kiln.
Nearby is the St Brides Estate with attractive parkland that surrounds the Victorian "castle" which once belonged to the Barons of Kensington.
Martins Haven
Approximately a ten minute walk from the campsite is Martins Haven, a small pebble beach that's used as the embarkation point for the Skomer Island boats.
On the way down to the beach, you pass the marine exhibition centre at Fisherman's Cottage. Here you can learn more about the marine life in the Skomer Marine Conservation Zone and find out which are the best places to watch for seals and porpoises.
The award winning Lockley Lodge Visitor Centre is located up by the National Trust car park. You will find information about the marine reserve and its wildlife, and a gift shop with all the essentials for your visit to Skomer, Skokholm or the Marloes Peninsula. All tickets for Skomer Island boat trips are purchased from Lockley Lodge. They also sell ice creams, drinks and locally produced food.
Skomer Marine Conservation Zone