Things To Do Near West Hook Farm
Celtic Sea Watersports, Dale
Only 1.5 miles away, the picturesque, safe bay at Dale provides the perfect conditions for water sports with its calm, sheltered shores ideal for those learning and relaxing, as well as plenty of wide open space for those looking for a little more wind and excitement.
Whether you fancy sailing, powerboating, windsurfing, kayaking or paddle-boarding, Celtic Sea Watersports can offer you tuition, hire and all the equipment you need to get you out on the water.
Web: Celtic Sea Watersports
Tel: 01646 636642
---
Local Beaches

There are plenty of good beaches within easy reach of West Hook Farm.
It's a good idea to make a note of tide times as some of these more remote beaches are only accessible at low tide. But if you fancy a bit of surfing, exploring rock pools or just enjoy the open space then the Marloes Peninsula has some fantastic beaches to offer.
More: Local Beaches
---
Skomer and Skokholm Safari
Approximately a ten minute walk from the campsite, Martins Haven is the depature point for an exhilarating high speed Sea Safari to the islands of Skomer and Skokholm, journeying through the infamous white water of 'Jack Sound'. Explore the cliffs and coves of two of Britain's most famous island wildlife havens. Both Skomer and Skokholm Islands are home to vast colonies of nesting seabirds – including the largest Puffin colony in Southern Britain. Seals and Porpoise are also regular sightings on this truly unforgettable trip!
Web: Pembrokeshire Islands Boat Trips
Tel: 01646 603123
---
Martin's Haven - the Deer Park
Just 10 minutes walk from the campsite, the Deer Park was originally part of the Kensington estate of St Brides, but has never actually contained any deer. So no deer to see, but lots of seals (pups in autumn), heather and wildflowers, spectacular rocks and sea views. So enjoy the dramatic coastal scenery and chances to spot wildlife and you'll also see most of Pembrokeshire's islands from here too.
Discover Marloes Deer Park
---
Birdwatching at Marloes Mere
Marloes Mere is a great place for birdwatching. It's an especially good place to see waterfowl and birds of prey in the winter months. Walk down the lane from the Marloes Sands car park and stop often to look across the wetland. There are two hides overlooking the mere, where you can sit quietly and wait for things to happen.
Marloes Mere
---
Marloes Peninsula - Coastal Walk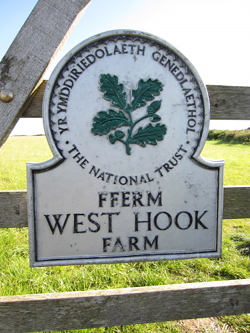 West Hook Farm campsite is situated on the Marloes Peninsula, which is within part of the Pembrokeshire Coast National Park, and forms the westernmost tip of the southern shore of St Brides Bay.
If you have a couple of hours to spare and want to explore this beautiful peninsula then try this moderate 5 mile circular walk that starts at the campsite and follows the coast path and also explores some of the inland trails across Marloes Mere. You can download a PDF of the route details and map.
Check the excellent National Trust page on things to see and do on the Marloes Peninsula. Have a look too at Coastal walks in Wales - a National trust guide to walks in Wales featuring picturesque peninsulas, rugged headlands, quaint hamlets and prehistoric monuments, all with a chance to see some outstanding wildlife.
---
Skomer Island
From the Deer Park on the headland at Wooltack Point, just above the campsite, you can look westward to Skomer Island, one of West Wales' most picturesque islands, with its stunning and varied wildlife. From a sea strewn with rafts of guillemots, razorbills and puffins, to exposed headlands, towering offshore rocks and sheltered inlets, home to the birds and mammals of this amazing island Nature Reserve.
Just 10 minutes walk along the coast path from the campsite is Martins Haven, from here a 50-seater passenger boat, the Dale Queen, offers gentle cruises through the surrounding waters and bays of Skomer and also transports visitors to the Island.
Sailings are weather dependent with the final decision resting with the Boatman; decisions on sailing are made each day by 9.00am and are dependent on both conditions and forecast. A strong northerly wind will prevent departure from Martin's Haven and access to Skomer landing.
Wildlife on Skomer Island
---
Skomer Cruises on the Dale Queen
Enjoy an hour's experience with the commentary of an expert naturalist as you take in some unique views from the water of Skomer's seabirds soaring around the cliff. Watch out for seals basking on the rocks, and porpoise feeding as we cruise around this Marine Nature Reserve.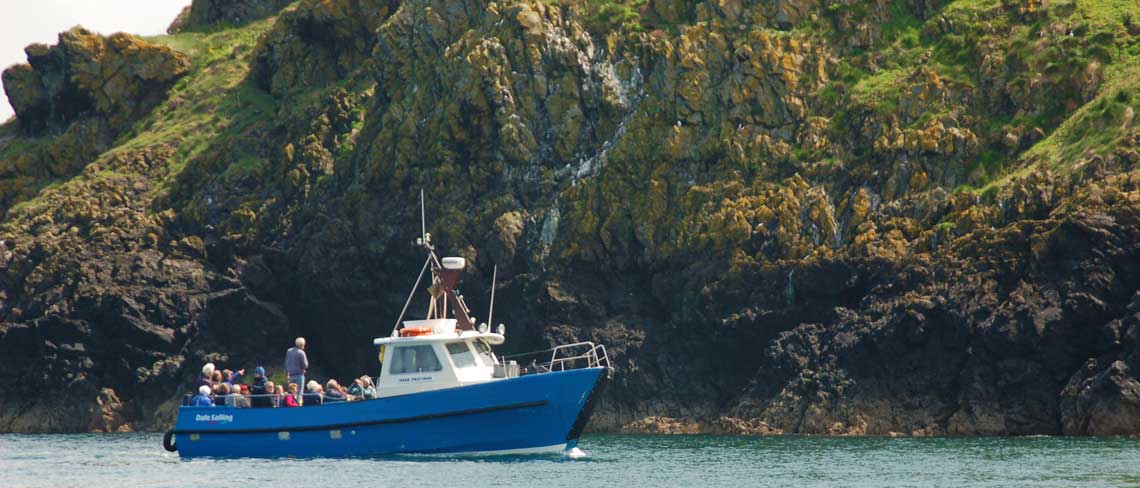 Web: Skomer Cruises
Tel: 01646 603123
---
Daily Skomer Island Landings
A 15 minute boat ride takes you to enjoy one of the best wildlife experiences in Britain. Land on Skomer and spend the day exploring the beautiful island nature reserve and see the thousands of Puffins, Guillemots, and Razorbills, along with a host of other birds and wildlife. The island has 87 steep steps to climb from where the boat lands, a certain level of fitness is required to access the island.
Web: Skomer Island Landings
Tel: 01646 603123
---
The Bench Ice Cream Parlour, St Davids
The Bench is an award-winning Ice Cream Parlour, in the heart of the cathedral city of St.Davids. Their ice cream is made daily by using fresh organic milk from local Caerfai Farm St Davids.
The Bench also makes an extensive range of delicious fruit sorbets which are dairy free and chosen according to seasonal fruit availibility. There is always a sugar free and dairy free ice cream suitable for diabetics.
Tripadvisor - "The selection of ice creams is huge. They also provide lovely fresh sorbets and usually have one or two non dairy ice creams on offer too. As a vegan, I rarely get to enjoy ice cream when I am out and about, but this place means I can. If you come to St Davids, you must try one of these ice creams. In the summer, the queues are long - but there is a very good reason for that!!"
Web: The Bench Ice Cream Parlour (Gianni's)
Tel: 07855 327196
---
Oriel y Parc, St Davids
Oriel y Parc Gallery and Visitor Centre is the gateway to St David's, Britain's smallest city, located in the UK's only truly coastal National Park. You're in a unique award-winning 'green' building with a great café.
Using objects from the art, natural history and industry collections of Amgueddfa Cymru – National Museum Wales, visitors can view a regularly changing exhibition programme, including a selection of works by Graham Sutherland. This twentieth century painter was so moved by Pembrokeshire that he bequeathed a body of artwork to the county.
Web: Oriel y Parc Gallery and Visitor Centre
Tel: 01437 720 392