About West Hook Farm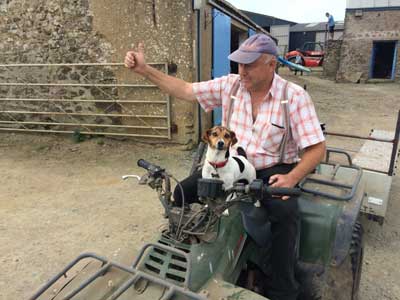 West Hook Farm and Campsite is run by Robert and Karre Thomas. It is a small campsite with clean basic facilities. The campsite is spread out over 3 fields that all overlook St Brides Bay, so it has beautiful sea views. There is between 6 and 18 metres between pitches depending on position. Some pitches are on a gentle north facing slope.
There are 8 communal toilets and wash hand basins, 3 showers that work on 50p coins, 4 washing up sinks and a chemical disposal point. The use of several freezers is also available for ice packs only.
Robert and Karre are big on recycling and provide separate bins for newspapers and magazines, tins and cans, glass bottles and jars. There is also a compost heap for organic waste and peelings.
Living Memory History of West Hook Farm
Robert's family came to West Hook in September 1941. They originally farmed at Longhands Farm, Dale. This was demolished to make way for Dale Airfield.
Dale Airfield or RAF Dale/ RNAS Dale/ HMS Goldcrest as it was known by the various groups who used it during and after the Second World War, was first used by the 304 Polish Squadron, running Wellington Aircraft missions, including convoy protection, anti-submarine patrols and bombing raids in Occupied France.
In April 1943, the Coastal Command Development Unit took over the airfield and tested many aircraft, while developing new tactics and equipment.
In September 1943, the Royal Navy took over the use of the airfield, now called HMS Goldcrest, as a training unit and improved and developed the area further, until flying ceased in 1948.
The Davies and Thomas families, were given very little time to find an alternative farm to move to, from Longhands and West Hook Farm, having been empty for sometime, was the place they moved to.
When they moved to West Hook, the family consisted of:
Robert and Emily Davies (Robert's Great Grandparents)
Archie and Dora Thomas (Robert's Grandparents)
Elsie Davies (Robert's Great Aunt)
Bob Thomas (Robert's Father)
Oldest Cow in the World
They started taking in campers, from the late 1940's. Auntie Elsie was the main driving force of the farm and she and her sister Dora, would milk a few cows by hand, twice daily, out in the fields, "so that the cows would not be disturbed", by bringing them to the byre.
The milk was used to feed calves, make butter to sell and for milk for the house. Auntie Elsie treated all her animals with great fondness and affection.
In 1956, one of her cows, named JANE, died at the great age of 40. she had by this time produced 32 calves.
Jane was recorded in the Guinness Book of Records, as the "Oldest Cow in the World". This record was held well into the 1980's.
Robert's father Bob, met his mother Megan, in the late 1950's and married in May 1961. They lived at West Hook Farm.
Robert was born in November 1962 and they all continued to live at West Hook until 1967, when Bob, Megan and Robert moved to Megan's original home, which was between St David's and Fishguard, to help look after family there.
Robert spent all of his school holidays and most weekends at West Hook, from 1971 onwards. As a youngster, he drove the tractor and did many of the jobs around the farm.
When Robert left school at the age of 16, in April 1979, he moved back to West Hook, sharing the house with Auntie Elsie, since Dora, his Grandmother, has died in December 1978 and Archie, his Grandfather, died soon after, in February 1979.
Auntie Elsie, moved to live with Bob and Megan, originally for the winter of 1979 - 1980, but chose to remain there, until her death in May 1990.
A New Chapter Begins:
Robert met Karre in July 1980, when Karre was potato picking at East Hook Farm, where Robert also worked, part time. They were married in September 1983 and Karre moved to West Hook. Both worked very hard to build up the farm and campsite.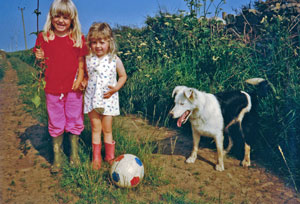 Robert and Karre have two daughters, Becky, born in 1986 and Sarah, born in 1988. Becky now lives with her partner James near Carmarthen and Sarah is married to Amos. They have three children, Megan Rose, Bethan and Leuan. They live in Milford Haven.
Robert and Karre have become good friends with many campers over the years. Some families are still coming here now, who used to come when Dora, Archie and Auntie Elsie were here.
Robert and Karre still have a Christmas card from Charles and Mary Hancox, who came to West Hook on honeymoon, in 1948, and continued to come for many years after that.
Please Enjoy the Photographs